Nutanix, Inc. is an American cloud computing company that sells software, cloud services (such as desktops as a service, disaster recovery as a service, and cloud monitoring), and software-defined storage. It is a hyper-converged infrastructure pioneer that markets its technology as a building block for private clouds. The company was founded in 2009 by Dheeraj Pandey, Mohit Aron and Ajeet Singh, and it is based in San Jose, Calif.
Nutanix appliances converge storage, compute and virtualization into one box. Initially targeting VMware customers, Nutanix branched out after VMware released its own Virtual SAN hyper-converged platform. The vendor's products now support Microsoft Hyper-V and KVM hypervisors, as well as VMware vSphere and Nutanix's own KVM-based Acropolis hypervisor (AHV).
Nutanix branded appliances consist of the vendor's software stack packaged on Super Micro servers. Original equipment manufacturer (OEM) partners Dell and Lenovo rebrand Nutanix software on their x86 servers, and Nutanix channel partners package the vendor's software on Cisco and Hewlett Packard Enterprise (HPE) servers. IBM also has an OEM deal with Nutanix to sell its software on Power servers.
Hyper-Converged Infrastructure (HCI)
Nutanix is a so-called hyper-converged Infrastructure (HCI) solution. A software platform (cluster) that runs on top of different kinds of individual servers (nodes). All these servers are linked together through this HCI software platform. All processors, internal memory, hard disks (storage) and network interfaces, are bundled in one cluster on which you can run virtual machines. The powerful thing about an HCI platform is the way all applications and workloads are distributed across the hardware, to optimise performance as much as possible. There is also redundancy built-in by dividing data and workloads across multiple servers. As soon as one of the nodes fails, the availability of the platform and applications is not affected.
A cluster can be expanded with new nodes. It is easy to add or remove servers from the cluster. This allows the Nutanix infrastructure to grow with the company. In the end, this is not unique, because this is the basis of a hyper-converged infrastructure. Nutanix performs well as a hyper-converged infrastructure for years now, in the more recent years, it has been more about broadening the platform.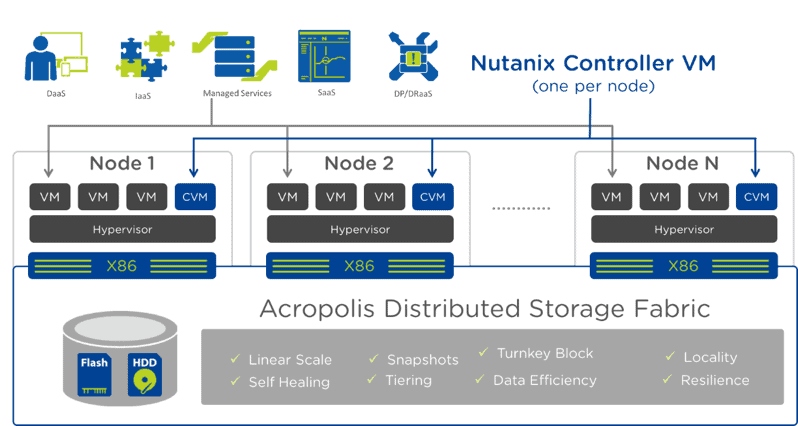 Nutanix AHV Installation on HP Servers
POC – Citrix Virtual Apps & Desktop on Nutanix Hypervisor (AHV) – Tech Blog (ramprasadtech.com)
Note: This page will be updated with additional content soon