I recently worked for one of the customer to Integrate On-prem Citrix Site (7.15) with Citrix cloud workspace and wanted to share my experience over this blog in simple steps
What is Site Aggregation for Citrix Workspace (Cloud Workspace)?
Site aggregation is a feature within the new Workspace experience that provides a simplified admin workflow that enables existing, on-premises Virtual Apps & Desktop deployments (inclusive of versions XenApp 6.5 and XenDesktop 7.X) to be aggregated into the new Workspace end-user experience. Once the workflow is completed, all apps and desktops associated with your traditional on-prem deployments will populate in the end-user's workspace. All Citrix Workspace supported apps will live side-by-side traditional on-premises apps and desktops. End-users won't be able to tell the difference between how the apps and desktops are hosted
What is the Value of Site Aggregation?
For customers maintaining hybrid environments, site aggregation helps deliver a single workspace with a modern end-user experience for traditional on-premises apps and desktops. End-users will have access to all their apps, services, and data via a single pane of glass, no matter how they're hosted. By using the feature, these customers can also remove their dependency from on-premises StoreFront and use Citrix Workspace as their primary delivery mechanism, which is evergreen and highly-available.
For existing Citrix customers who want to try Workspace, site aggregation provides a low-risk approach to start using Citrix Workspace and cloud. And trying Workspace with traditional on-premises apps and desktops requires little additional effort or investment. These customers can continue maintaining Storefront on-prem while they test out a subset of users in Citrix Workspace. This means that customers' on-premises Storefront can run in parallel with Workspace since no updates or changes are needed to Storefront.
For existing Citrix customers planning to migrate to Citrix Cloud services, site aggregation provides an initial step toward the migration process. Once aggregated, and the dependency on StoreFront is removed, end-users can continue to be productive by using Citrix Workspace, while admins plan and execute against their migration plan. They can begin redirecting and registering their VDAs to the cloud connectors instead of the on-premises brokers to move another part of their infrastructure to Citrix Cloud.
Conceptual Architecture
Below table provides Site Aggregation prerequisites and Implementation Procedures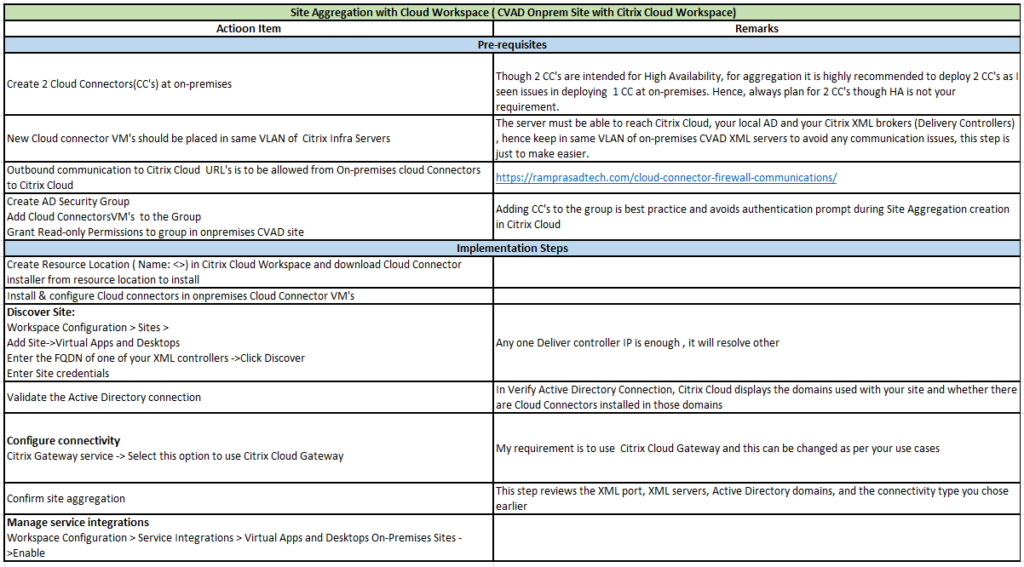 Click the below for Site Aggregation build screenshots
References:
Aggregate on-premises virtual apps and desktops in workspaces (citrix.com)